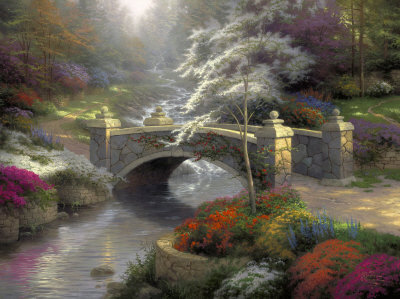 "The Bridge of Hope is as stable as the massive granite flagstones that form its arch and will stand for as long as the quicksilver brook rolls down from the hills beneath it.  A magnificent white dogwood, symbol of the purity of God's grace, shades the bridge.  Its over-arching boughs remind us that, while we stand on the Bridge of Hope, we are enshrouded by the loving embrace of our creator."  – Thomas Kinkade  
You know, everyone needs a "bridge" in their lives;  something solid to stand on and stare at their reflection in life's waters.   That's the purpose of this place, to be a quiet spot for reflection.  Sometimes, you'll see yourself but other times, you'll see Jesus staring back at you.  Whatever you see, this place is for YOU.   Scan the daily devotionals written by authors such as Billy Graham and other Christians and our weekly devotionals, Hope Extended, to see if God wants you to know something today.  Go to our Prayer Room and lift up your burdens to Him and to others.  You can also visit our Chat Room to talk with Christians from around the world.   And if you run into any issues or questions, you can e-mail us directly at ChristTheBridge@aol.com where we will be glad to help you.
All we ask is that you let this be a place that you can enjoy the quietness and peace that only His love can bring.  And may I add one other thing?  May God bless you as you stand on the bridge.  It might be the only prayer someone says for you today, but please know, it's a prayer that is said every time you come back.